Easy to use
Anyone who knows how to use online apps such as WhatsApp and Facebook can use PROFIJT!
Focus on students
PROFIJT is a unique platform because it was designed for students!
Anywhere, any time
PROFIJT can be used in all browsers and on all devices: profit from PROFIJT, anywhere!
 The comprehensive platform for education, work and student care!
 PROFIJT is the newest teaching, work, care and management system. PROFIJT brings together all vital student information and results. That makes PROFIJT the ideal digital solution in providing personalized education for students.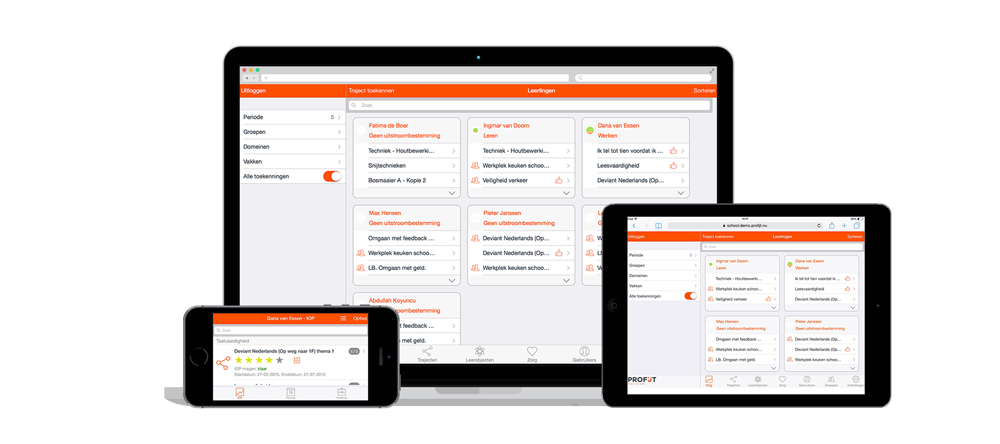 PROFIJT consists of 3 options: A, B and C. The composition of PROFIJT modules depends on the choice of options. Separate modules which complement the basic version and are completely integrated, can be added. These additional PROFIJT modules also have a interesting, fixed annual price. We would gladly advise you. Please contact us by email or telephone for a competitively priced quotation!
CSG Het Streek, Ede
Yesterday I added the student pictures. Not hard at all, clear instructions and a minimal amount of actions. Well organized, congratulations! And it also looks cheerful. Now we can immediately see which student we are talking about when we discuss our students. Very nice!
CSG Comenius, Leeuwarden
We started working with PROFIJT in September of the school year 15/16. We immediately plunged into it with the whole team. The method of teaching changes because teachers started working with more digital teaching materials, and that asks for a culture change. Therefore we regularly organize meetings at school, during which the teachers demonstrate a piece of 'good practice' to their colleagues. This is motivating for the entire team.
More than before, students are part of their learning process and reflect on this. Students know what they are going to learn and can create their own learning objectives. Students have a clear overview of what they are working on, and parents can see what their child is doing at school and how this is done.
The way PROFIJT handles questions and remarks of their customers, is very pleasant. The communication lines are short, and every question is answered. PROFIJT keeps developing through the input of teachers, and this ensures that the software meets the needs of vocational education.
Winkler Prins Vocational High School, Veendam
At Winkler Prins Vocational High School we have been working with PROFIJT for almost a year now. We have chosen PROFIJT because we want to monitor our students well and we want to offer them good appropriate education.
With PROFIJT we can present the learning goals, instruction and teaching materials in courses, which makes it accessible and clear for students and teachers. The sharing of courses with other schools within PROFIJT, is of great value. Students explore the material and work on their assignments with a high degree of independence.
We are content with a system with which we can serve and monitor the student well.
Pieter Zandt, Kampen
This school year the department of Vocational Education of Pieter Zandt High School started with the implementation of PROFIJT. It is our goal to use PROFIJT to structure our curriculum, and to better engage the students in their own learning process, based on this curriculum. Thanks to the good support of the PROFIJT team, we managed to take some big steps forward this year. PROFIJT Monitor is a very helpful tool for this, because every month we receive clear feedback about the way we are working with PROFIJT.
Collaborating with PROFIJT is a pleasure, because there are short lines of communication. We always receive a quick reply when we have questions or when things are not clear. The Advisory Board meetings that are organized are very valuable because there is room for our ideas, which are truly heard. Besides that, it is nice to share experiences with other users. Every reason for us to soon start working with PROFIJT Care and PROFIJT Internship as well.
PRO Emmen, Emmen
PRO Emmen is a high school with about 370 students from all over the region. Just like the other vocational high schools in The Netherlands, we are constantly monitoring whether what we do is good enough. For this we use the plan-do-check-act cyclus.
Individual development plans… a student-centered approach, all kinds of developments, alterations and implementations… lots of puzzle pieces… but constantly looking for connections. Whether the puzzle ever will be finished completely? A new Secretary of State, a new Minister, vocational education is not very predictable.
Suddenly we found what we were looking for, and we would like to share that with others: PROFIJT!
The people of PROFIJT crossed our path years ago. Their enthusiasm and the fact that their hearts are in the right place, made us decide to join them in the search for an adequate tool for students ánd teachers. The following statement was decisive for us:
'PROFIJT enables the school to empower students based on their own individual learning path, during which they are constantly challenged to bring out the best in themselves.'
By now we have been continuously informed, we have had a pilot project during the second half of the last school year, we have decided to start working with PROFIJT school wide this school year, we chose to use PROFIJT Basis and Care, we will start working with PROFIJT Internship after spring break, we have applied for the Monitor, we are active within the Community, we visit all the Advisory Boards, we have appointed two administrators, and… the whole staff supports this choice.
During the pilot and last January, we have received excellent support of, as we call them, the 'orange shoes'. Each time they visited our school with two or three specialists for two days a week, to help us with questions, to train us, and to monitor us. A quote from their report:
'Last week, Januari 25 and 26, 2016, we have visited you in Emmen to monitor the use of PROFIJT by the teachers, and to help with questions. We have enjoyed these two really valuable, constructive, and especially fun days. We received good advice and wishes from your staff, which we gladly take into consideration during the ongoing development of PROFIJT. These wishes are added to the list of items for further development, and are implemented in the software based on the priority of the schools that are working with PROFIJT.'
No question is too crazy, and before we know it, there is an adequate answer, or it is already realized, or we know it is included in the planning.
PROFIJT: totally recommended!!
Stenden University, Meppel
Since a few months PROFIJT, the
AMC
 and a group of students of 
ITEPS (de internationale pabo van Stenden Meppel)
 are working together on a project about personalized learning. The students put together active and inspiring educational programs, based on specific questions from children in the AMC with long-term illnesses. These programs help them find the answer to their question. A few examples of the questions that were asked, are 'What does a personal trainer do?', 'Can a robot get human characteristics?' and 'How are cell phone cases made?'. Under the supervision of Stef Sprong (teacher at the university) and Marjet de Vries MSc (PROFIJT) the students work in pairs to create personalized courses that are tailored to the children's wishes. Those courses consist of several activities that can be carried out in a specific order, and in the end provide the answer to the question. The assignments can be accessed through the digital platform that is developed by PROFIJT. The assignments are uploaded by the students, and the children can start working on them on their own. The results can be monitored by the students. Through a chat function the students and children can stay in contact. The first questions have been prepared, and the first activities have been arranged at the platform. Now it gets exciting. Will it work? Are the children content with it? All in all it is a nice and instructive project, that will certainly be continued when everything goes well.
Focus, Heerhugowaard
This school year Focus truly started with the implementation of PROFIJT. We have chosen to let the people of PROFIJT help us and monitor us during this process. The support is aimed at letting the teachers become familiar with the instrument as quickly as possible, and that is going according to plan. Through the use of PROFIJT Monitor we monthly receive clear feedback about the use of PROFIJT. We monitor our planning based on this feedback. The application managers of our location are also expertly and enthusiastically supported by the team of PROFIJT.
Twents Carmel College, Oldenzaal
Around February 2015 our school started working with PROFIJT. We didn't start using everything at once, but used a step by step implementation through seminars given by people of PROFIJT. Besides 'working with the software', there is room for PROFIJT to provide an implementation that fits the organization. We agreed to use the school year 2015-2016 to gradually implement PROFIJT in our school system: first the individual development plan, than adding courses and grading. While working with PROFIJT, we sometimes encountered unclarity. Thanks to the short communication lines, this was quickly solved. Questions that had a greater impact on the software itself, an adjustment or addition for example, were and are also taken seriously. This is also reflected in the Advisory Board meetings that are organized: ideas are put forward and put to a vote, and afterwards the results are implemented in the software.
PROFIJT is constantly developing. The basis is good, the extra modules are very promising and very easy to use during the day-to-day reality.